Contact us
Mamaison Residence Belgická Prague
Belgická 318/12
Prague 2, 120 00
Czech Republic
Show on map
Where to find us
Mamaison Residence Belgická Prague lies right at the heart of the Czech capital. It takes about 14 minutes to get to Wenceslas Square; the historic Old Town is just 2.5 km away. There are popular bistros and restaurants, museums and city parks near the hotel.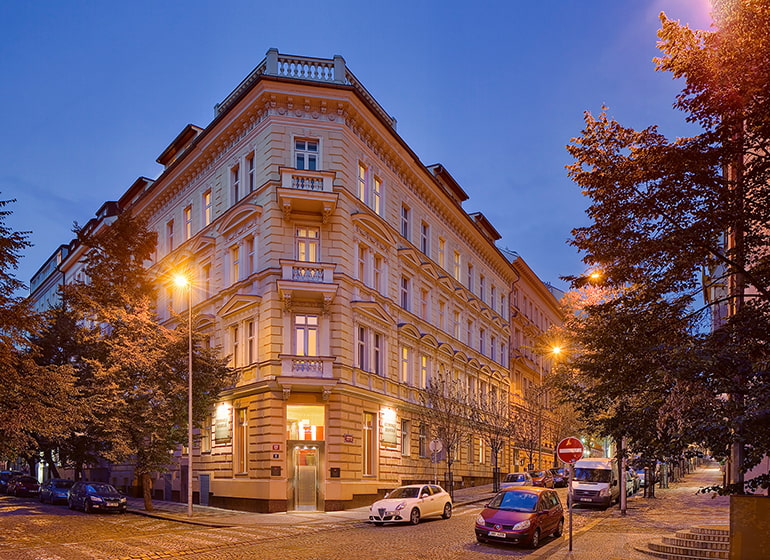 Václav Havel Airport Prague is about 17 km from the hotel, while the main train station is roughly 1.5 km away. It takes less than 15 minutes to walk to I. P. Pavlova, the nearest metro station.
If you're arriving by car, you can park near the hotel or use our underground garage. A fee is charged for both options.
Drive along the right bank of the Vltava River. When travelling from Charles Bridge or Jirásek Bridge you can reach the hotel via Resslova and Ječná streets. At the end of Ječná, turn right into Sokolská and then take a left into Rumunská Street. Turn right into Belgická at the end. The hotel is on the left⁠⁠-⁠⁠hand side.
The Main Station (Wilsonovo nádraží) is around 1.5 km away. From the Main Station, take the metro (line C) to I. P. Pavlova station (approx. 12 minutes). From there, you walk around 800 m to get to the hotel (approx. 11 minutes).
International Vaclav Havel Airport Prague is located approximately 17 km west of the city centre. Take bus No. 119 to Nádraží Veleslavín station, transfer to the metro A line and get off at Muzeum station. The hotel is about 600 m away. You can also order a transfer from the airport to the hotel in our limousine.